Olen tähele pannud (ja ilmselt minu luguejad ka), et ma ei kasuta soonikut nii, nagu seda tavaliselt õpetustes pakutakse. Õpetustes on soonik funktsionaalne, mõnikord ka dekoratiivne või mõlemat. Mul pole ta kunagi funktsionaalne, kudumi ääres on tavaliselt mingi muu kude (mütse, sokke ja kindaid ma ei koo, seal oleks teine asi). Lisaks sellele on veel paar asja: esiteks on mustreid, mida soonikuks ei nimetata, aga sisuliselt on soonik (vahelduvad parempidised ja pahempidised) nagu siin, praeguses töös:
I (and probably my readears as well) have noticed that I do not use ribbing in the way it is usually prescribed in patterns. In patterns ribbing is predominantly functional, sometimes decorative or both. In my knitting, it is never functional and the edge of knitted garments is worked in a different stitch (because I don't knit hats, socks and mittens, this is a different story altogether). In addition to that, there is a couple of matters: first, some patterns are not called ribbing but technically are rigbbing (alternations of knit and purl stitches) as here in my current knit: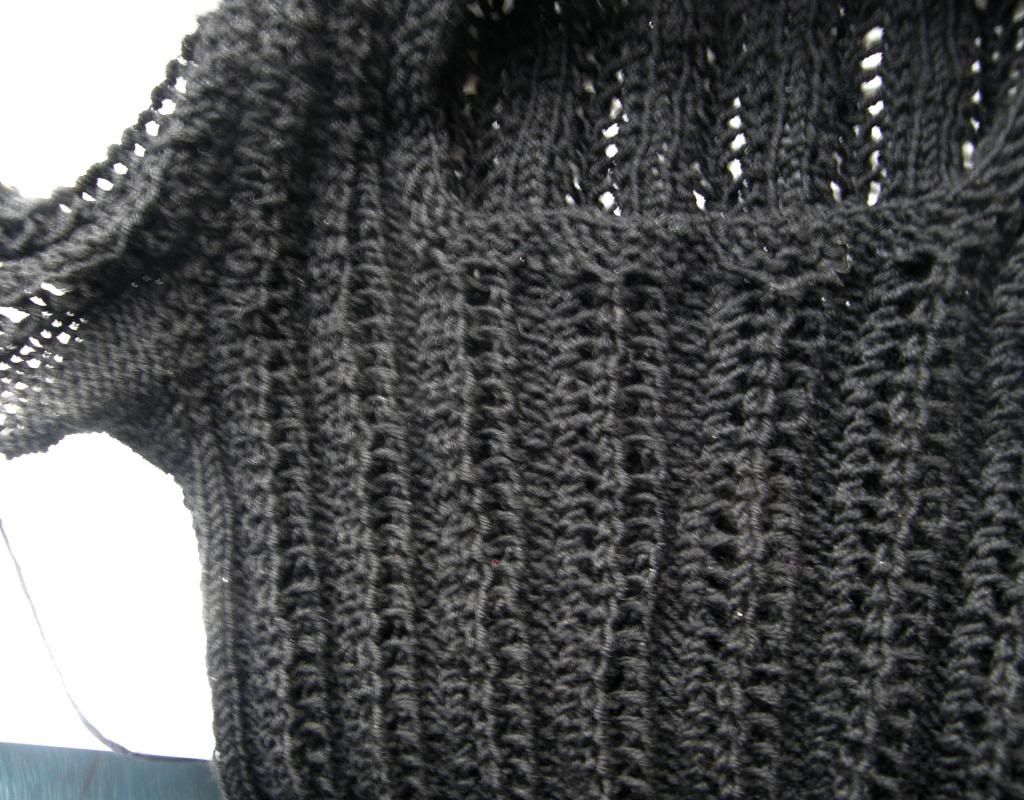 Teiskes, kas nii lai soonik nagu alumise pildi kleidil on ikka soonik. Mind hakkas huvitama, mida arvavad soonikutest kudumissõbrad, küsisin kolme käest ja sain vastused.
Second, is the wide ribbing in the following picture still a ribbing? I wondered what my knitting friends think about ribbing and asked three knitters and got their replies.
Suvi
: "
Soonikul on kindlasti nii funktsionaalne ülesanne kui ka dekoratiivne, tavaliselt mõlemad korraga. Kui on vaja soonikut kui sellist, siis vaatan alati, milline soonik on antud kudumile ja mustrile sobilik. Kõige tihemini kasutan 2 x 2 ja 1 x 1 (keeruga) soonikut. Mõlemaid saab hästi palmiku- ja pitsimustritega siduda nii, et muster jätkub otse soonikust.
Ka laiem soonik on kindlasti ikka veel soonik, kuigi võrreldes kitsama soonikuga funktsionaalne tegur on väiksem, tõmbub kokku küll aga vähem. Olen ise kasutanud väga laia soonikut beebimütsil, püsib hästi peas aga ei ole ebamugav.
Vahel olen soonikuga asendanud vöökoha kahandused. Kui soonik kulgeb külgedel, siis pole kahandusi & kasvatusi vajagi."
Suvi
:

"Ribbing is certainly functional and decorative as well, usually both at the same time. When I need ribbing as such, then I always look what kind of ribbing is suitable for a given knit and stitch pattern. Mostly I use 2 x 2 and 1 x 1 (twisted) rib. Both can be easily combined with cable and lace pattern so that the pattern immediately continues from the ribbing. A broader ribbing is still a ribbing, albeit its functional properties are smaller compared to a narrower ribbing, it contracts to a much lesser extent. I have used a rather broad ribbing for a baby hat, it stays well on and is not uncomfortable. Sometimes I've replaced waist shaping with ribbing. If ribbing is on sides, then you don't need shaping increases and decreases".
Helin: "

Kasutan soonikuid enamasti praktilisel eesmärgil - sokkide ja kinnaste ääres, ka kampsuni allosas, kaeluses või varrukate otsas. Olen palju kasutanud 1 x 1 soonikut, aga ka 2 x 2 . Vähem olen kasutanud 2 x 1 soonikut.

Meeldivad ka teistsugused soonikud, nt minu kinnastel on 2 rida 2 x 2 soonikut ja 3. rida on tervikuna pahempidiselt kootud. Sellel mütsil on tehtud aga nii, et 1. ring 1 parempidi ja 2 pahempidi ja 2. ring 2 parempidi ja 1 pahempid ning taas 1. ring."
Helin:
"I mostly use ribbing for practical purposes: the edges of socks and mittens, also the bottom of sweaters, on the neck opening and sleeve edge. I have used a lot 1 x 1 ribbing but also 2 x 2 . I've used 2 x 1 ribbing less. I like other ribbings, too; for instance, my mittens have 2 rounds of 2 x 2 ribbing and round 3 is entirely purled. And the ribbing of the hat is worked as follows: 1st round k1, p2 and
2nd round k2, p1 and then repeat".
Linda
: "Kasutan väga harva tavalist soonikut, sest see on minu meelest esmajoones funktsionaalne. Pigem kaldun eelistama mustreid, kus on pahempidiseid silmuseid üksteise kohal või kahekordset pärlkuded või allakeeratud alumist äärt. Tahaksin küll proovida erinevaid ääristusi ja tulevikus keskendun neile, mis on nii dekoratiivsed kui funtsionaalsed".
Linda
: "I very rarely use an ordinary rib because they are foremost functional, in my mind. I tend to prefer to either chose a stitch pattern that includes purl stitches that line up; or double moss stitch; or work a double hem at the bottom of my designs. I do want to test out different
types of edging and will focus on the ones that are both decorative and functional, in the future".
Tänan kõiki vastuste eest! On hea teada saada. Kui soovite oma arvamust avaldada, kommenteerige julgelt!
Thank you all for your reply! It is good to learn something like this. If you wish to write your opinion, don't hesitate to comment!